I love comics even though I really don't read it. I have Superman, Batman and Robin, Green Lantern, Justice League, Flash, Wonder Woman and more…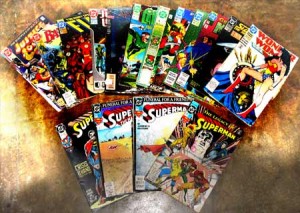 My DC Comics
I am too lazy to read DC Comics when I was a child and I never thought reading and writing will be my daily hobby. My DC comics are all given to me by my brother in law when he was courting my sister. I am planning to sell this to eBay but I have special memento to it. It is already borrow for a year before I have it back. I want to pass it on to others that are so close to me and I'm sure I will miss it.
Why I Love DC Comics
I want to become a hero that's why I love the story even I don't read the action the picture in the comics is enough for me to understand the stories. I love the art of drawing, sketch, canvas, portrait of the super hero. I almost dream to be one of the best graphic artists in the comics when I was a child. Maybe it's not for me or maybe someday it will be.
My Favorite DC Comics
Since I already knew superman, batman, flash, wonder woman and other super hero, when it comes to DC comics I only like superman. I like superman because it is much more I have other than else and also I can't afford to buy what I really like is not from DC Comics. It's X-Men from Marvel Comics. That was X-Men on TV series when I use to watch and like that time.
What I Hate on DC Comics
I hate the words to be continued in the end of the issues and yet you have to look for another issue to buy. And yet I still don't buy, It I have it as a gift. I will never hate the one who gave it to me, he provide me a copy of every issue he have.
He's name is Wowie Medina. That you so much for giving your DC Comics as gift.
PS: I already given this set of comics to Jomari. I am just paying it forward. ( September 29, 2015 )